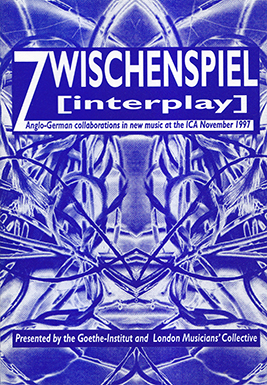 ---
Zwischenspiel | Interplay
Anglo-German Collaborations in New Music
Concert Series at the ICA London, Nov 1997
Presented by the Goethe-Institut London in collaboration with the LMC.
Curator's Notes
The concert series Zwischenspiel | Interplay was my second proposal commissioned by the Goethe-Institut London to showcase novel aspects of German music culture. For this, I brought British and German composers and performers with backgrounds in a range of musical genres together, to compose original collaborative works tailored to live performance. From a number of projects submitted, the final programme was assembled with variety and unconventionality central to the curatorial concept. The concerts were held at the ICA in London and organised collaboratively with the London Musicians' Collective (LMC) – in particular with Edmund Baxter. The series was augmented by two public discussions around current musical trends. The series was quickly sold out and we attracted an enthusiastic audience. As a result, the Goethe-Institut London decided to finance a second series in the following year.
Zwischenspiel II was to have a topical focus: Sound Image Space. I was looking for experimental and collaborative projects that would place sound in the context of space, imagery or light. The final programme was broad in scope and included sound-bricolages with light design; live-sampling with sound-space movement and live-performance; an interactive sound-image system with live-video and juggling; a sound and digital-image design with large format image projection, and a digital sound-space diffusion with ten-part choir. This time, not only the sound projects but the organization and planning too, were to be collaborative, and the preparation of Zwischenspiel | Interplay II became a trilateral collaboration between the Goethe-Institut London, the London Musicians' Collective and the Freunde Guter Music, Berlin. The series was finalized and scheduled for autumn 1998, but before it could happen, the Goethe-Institut was hit by draconian budget cuts that forced it to withdraw all finances. Therefore Zwischenspiel | Interplay II: Sound Image Space looked amazing on paper, but was never realised.
---