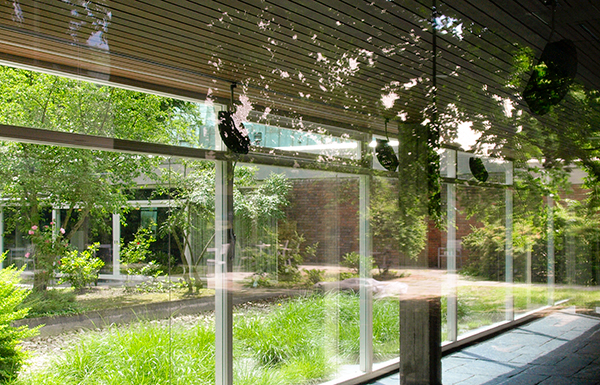 ---
Curator's Notes
The relationship between speech-sound and space, and the spatial effect of spoken poetry fall under the remit of SoundArt
When the Literaturwerkstatt Berlin invited me to curate a SoundArt exhibition for its 14th International Poetry Festival in the rooms of the Academy of Arts in Berlin, the challenge was to present different SoundArt approaches to poetry, as well as relating them in a meaningful way to the distinctive modernist architecture of the building.
I selected three installations by artists with their own distinct aesthetics, concepts of space and ways of working with poetry and the spoken word.
The installation by the American video, installation and performance artist Gary Hill Child's Play, was based on a text written by the artist himself and spoken by six children. This work, originally commissioned by the TONSPUR Vienna, was installed in the open space of the Grass Garden, one of two planted courtyards in the Academy building. The light playfulness of the children's voices bounces joyfully around the garden, while images of their faces, superimposed on gargoyles, provide a calm visual reference point.
On Reflection by Douglas Henderson, the only work commissioned specifically for the exhibition, was designed for the Glass Passageway. The Slam poem Welcome by MC Jabber – spoken by the poet himself – provided source material for the composition which metaphorically enhanced the poem's reflective tone by bouncing its processed fragments off the giant glass panels of the passage and back into the light-flooded walkway. The vista of surrounding parkland beyond the glass amplified the reflective quality of the work.
The German SoundArt duo <SA|JO> (Sabine Schäfer and Joachim Krebs), adapted their Sprachmileu III from the cycle Prosaphon(ie) to the austere Club-Space Foyer. Continuous, concisely composed, lines of speech, taken from Flight, a 1962 text by Konrad Bayer, fuse effortlessly with the spatial interior of the Foyer, built in the same decade and meticulously preserved. The work takes the form of a concertante space-sound installation, opening out the linear speech melodies of the composition into three-dimensional space through the calculated deployment of speakers positioned around the seated listener.