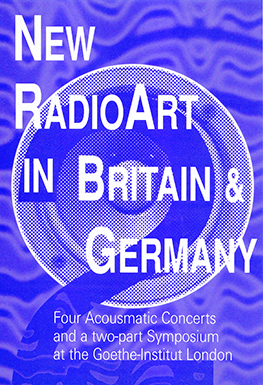 ---
New RadioArt in Britain & Germany
Acousmatic Concert Series
at the Goethe-Institut London 1998
Symposium
Part I – 31 Oct
In many Tounghs – The Aesthethics of AudioArt
William Furlong: My Work.
Simon Emmerson: Crossing the Genres.
Matthew Adkins: My Work.
Evelin Ficarra: My Work.
Kersten Glandien: AudioArt as RadioArt – Legacy of an Old Medium.
Part II – 7 Nov
Radio – Institution – Medium: AudioArt & Mediashift
Manfred Mixner (SFB, Berlin): RadioArt – Pratice & Perspectives. Radio as Location.
Rachel Baker (Backspace London): Net Radio Days Berlin.
Rachel Steward | Martin Spinelli: Engaged Magazine – The Radio Issue.
Phil England (London Musicians' Collective): Resonance FM – An Independent Radio Station in London
Peter Louis (Middlesex University)
Matt Thompson (Loftus North Productions): The Witness on the Radio: The listening Community.
---