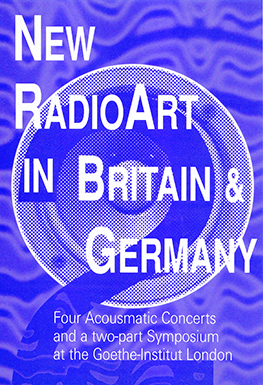 ---
Curator's Notes
In 1996 I was approached by the Goethe Institute London to propose a series of music events that would showcase some of the unique developments in Germany's contemporary music culture. My first suggestion was to run an acousmatic concert series that would introduce to the UK the impressive international RadioArt culture German public radio stations had developed throughout the 1980s and '90s. In fact, from the late 1960s onwards, the ARD* had invited international artists to experiment with the format, technology and institution of Radio, producing an extraordinary variety of unusual sound pieces with no equivalent in the British broadcasting environment.
For the first series, in 1997, I chose a range of works produced by different public stations and invited radio producers – including Klaus Schöning, founder and head of the Studio Acoustic Art of the West-German Radio in Cologne – to speak about the works produced in their studios. This series was such a success, that the Goethe-Institut London decided to run a second series the following year. This time, as well as presenting another selection of German RadioArt, I added two concerts that featured RadioArt works produced independently by British artists, with no access to the production tools or broadcast possibilities of British public radio. (We are in pre-home-studio and pre-internet territory here.)
In order to initiate an exchange of experiences and create more visibility for this artform, I also organised a two-day RadioArt symposium, inviting British artists to talk about their sound works and experiences with British radio, while independent organisers and academics addressed more general questions concerning the aesthetics and the diffusion of RadioArt. [Resonance FM in London – the first British independent artists' station – was still a pilot project at this time.] Although they were invited to both series, the BBC neither attended any of the concerts, nor did they participate in the symposium.
* Arbeitsgemeinschaft der öffentlich-rechtlichen Rundfunkanstalten der Bundesrepublik Deutschland – Consortium of public broadcasters in Germany.
---