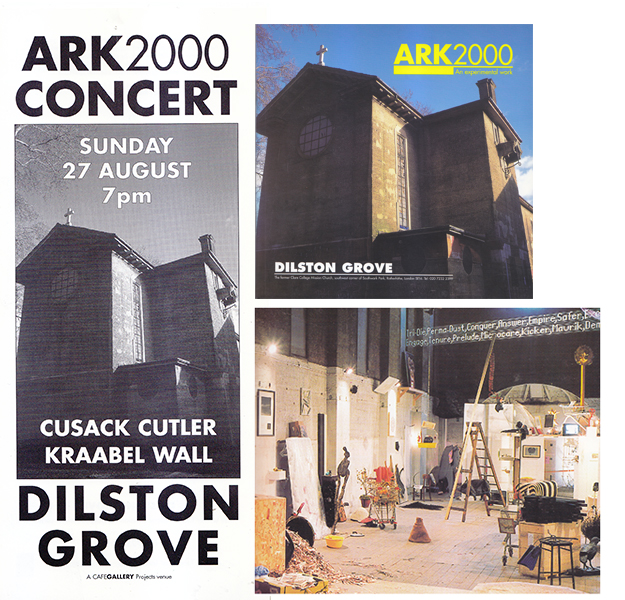 ---
ARK2000
Concert for an Installation
In collaboration with the Art Bridge – Kunstbrücke Project, Bermondsay Artists Group London & Artists from Berlin, Dilston Grove, London, August.
I was invited to curate a concert on the occasion of the 10th anniversary of the Art Bridge – an artist and art exchange between the Bermondsey Artists' Group in London and a group of independent artists in East Berlin. The exchange was initiated in 1990 – just after the fall of the Berlin Wall – to spark a connection between independently working artists from both cities: London artists exhibited their works in East Berlin and Berlin artists exhibited theirs in London – at the B.A.G's Café Gallery in Bermondsey; occasionally there were collaborative projects featuring artists from both cities. For the 10th anniversary, 100 German and 100 British artists, all of whom had previously participated in Art Bridge projects, created an installation of 200 thematically connected works, hosted at Dilston Grove. The ARK2000 concert was part of this event. I invited four very distinctive musicians to improvise, alone and in different combinations, in the spaces between the artworks.
The invited musicians were:
Peter Cusack
Caroline Kraabel
Chris Cutler
John Wall
The sound technician was Mark Hornsby.
More about the Art Bridge project can be found in:
K Glandien. 'Art Bridge between London-Southwark and Berlin-Prenzlauerberg. Report on a Regional Project', in German Monitor: Prenzlauer Berg – Bohemia in East Berlin?, Ph. Brady & I. Wallace (eds.), Rodopi, Amsterdam – Atlanta, GA.
---